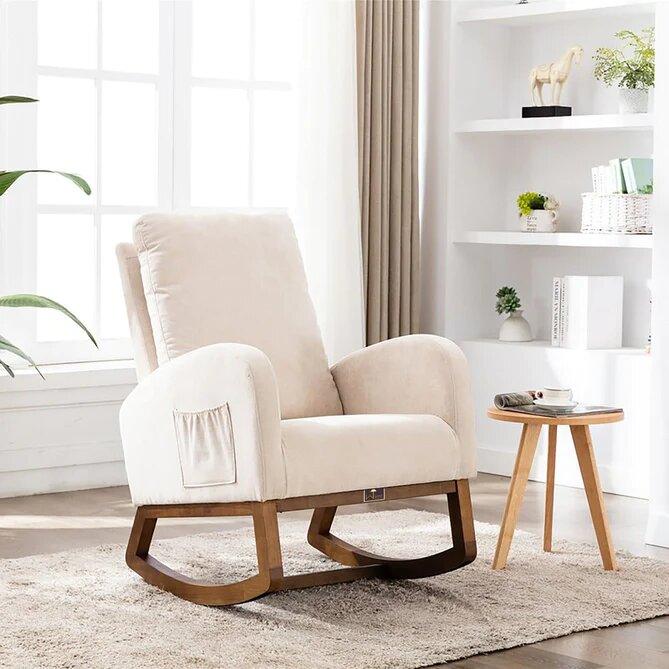 Rocking Chairs @ Stylish & Comfort Chairs @ Buy Now
Wood rockers will bring more warmth and grandparents can perfectly utilize this to relax and warm their hands by the fire in cold winters.
Everyone wants a specific place dedicated to their love for literature, books and reading. A rocker can add more fun and comfort to this space in your home. A reading nook in the bedroom can have the perfect setting if you place a rocking chair there and enjoy the cushioned seats while reading and moving back and forth in style.
To enhance an office set up with the most comfortable seat that showcases a lavish look is a great idea. Stunning Rocking chairs upholstered in leather have a sophisticated look and if one chooses a swivel rocker then it can add more convenience while working. It can turn around an entire 360 degrees for you to perform multiple tasks at a time.
For outdoor purposes, whicker is a good material as it can be weather resistant whereas wood is not suitable for a patio as it will be exposed to sunlight and rainfall which can result in wear and tear of the material but if you want something classic and bringing a rustic touch to the decor.
Wooden rocking chairs can be the best choice as they will bring a different kind of beauty to the place. For a setting to welcome guests or enjoy conversations with a cup of coffee in the evening, a wood table around a set of two or three rockers can complete your beautiful outdoor setting.
To buy the best wooden rockers online, Browse through the collection of gorgeous designs of rockers and recliners with footrests to bring the best style & comfort home in an affordable price range. Customized services are also provided to the customers only at Wooden Twist.