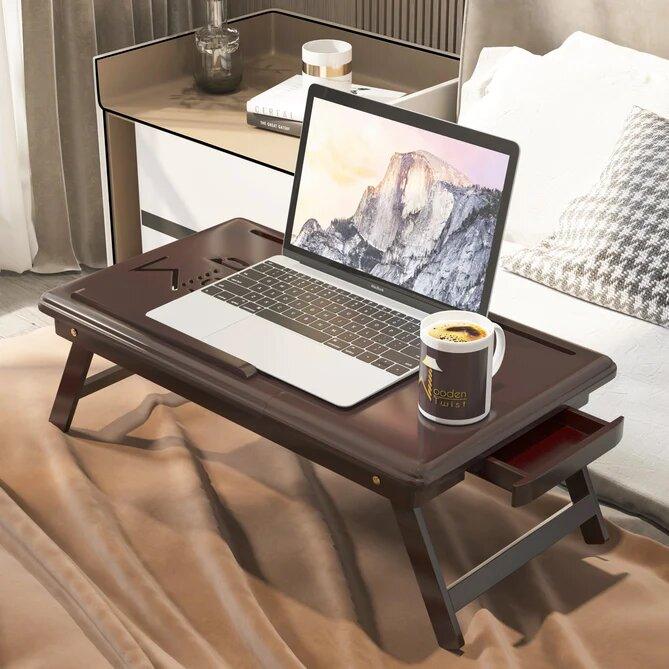 Amazing Designer Laptop Tables @ Buy Now With No Shipping Cost
To ensure that you choose the right one, go through the customer reviews of the product listed online and check the images the customer has posted and match them with the one listed on the website. Check the warranty period and reputation of the brand as well when choosing a laptop table design.
Some wooden lap trays come with holes and other mechanisms for ventilation. Look for such designs as these can help the device to cool down and ensure its longevity. The system won't build up the heat inside and hang too much. The battery would last longer and that is why this factor must be considered while choosing a table.
The size of the wooden laptop table should be the ideal one to fit the device properly. It shouldn't be so large that the device would slip away from it and it should not be too small either. So, measure the dimensions of your gadget to bring a suitable stand for it.
There are a myriad of sleek designs in various sizes and colours available to enhance the work setup while providing the utmost comfort. Make your work set up aesthetically designed so that it boosts your productivity and creativity as well. Some designs come with drawers to organize the whole work environment.
There are different types of laptop tables such as standing desks with wheels, lap trays, couch tables etc. Choose a laptop tables according to your comfort and decor requirements. Foldable stands can be packed away while travelling and they fit in the most compact spaces. Keep them out of sight once the work is done. The modern laptop tables are portable and can be flexible as well in terms of adjusting the height and angles of the screen.