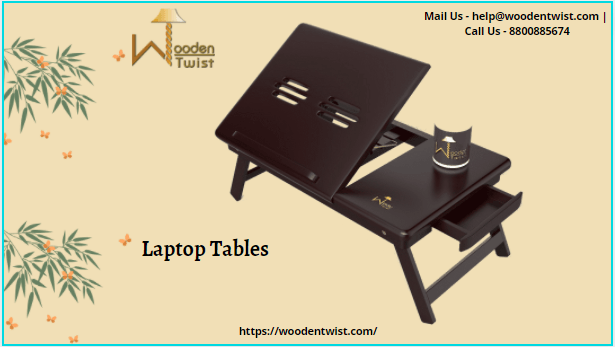 The Widespread Use of Laptop Tables and Stands
Laptop Tables are a need of the hour for remote workspaces. Nowadays, most organizations ask you for an organized work set up at home as most business models are operating on a hybrid basis. Covid brought this need for people to work from home and after the uncertainty passed, it slowly developed into a trend. Gone are the days when people used to work on computers and they were the biggest deal in the world of technology.
This stand allows the screen to gain height and you may sit in an upright posture. There are various benefits of using a wooden laptop table. These tables are sturdy and durable enough to hold the weight of the device.
Today, laptops are preferred in comparison to computers as they are more portable and easy to work on. People carry their laptops almost everywhere, they have just become like phones that can be carried anywhere. These devices have become such favourites that their use is excessive. While working, you use a laptop. Before going back to sleep, you binge-watch movies on the device's screen.
If you are a writer, marketer, web designer, software developer or on the other side you operate in the accounts or finance department. Using a system is part of your everyday life and that is how the harmful aspect of it comes in. You have to bend your neck and stress your shoulders and eyes to watch the screen of this gadget. A laptop table helps us in getting rid of these problems and that is why it has become an important part of everyday working.
There is a myriad of designs, colours, shapes, and materials available in the stands. These are aesthetic and stylish enough to adorn your dedicated work or study space. The metal designs are sophisticated and lightweight. The best thing about a device stand is the fact that it is portable and adjustable. Standing desks with wheels are also becoming a trend in the modern era.
There are various important reasons for buying a laptop table online. One out of them is decluttering as some tables and stands come with stationery and cup holders. You can declutter your space by organizing your stationery on the desk in the right place. It adds to your convenience and comfort while working. You may also place your coffee cup in the holder to enjoy the hot beverage while watching a movie or working without spilling it on the mattresses. This can be also used as a breakfast table.
The other is the ability to boost your productivity and creativity. The tables allow more airflow underneath and the system cools down. It increases the lifespan and longevity of your gadget. Some of the desks come with open storage options where you may keep useful stationery and sometimes a set of keyboard and mouse to provide some relief to your fingers from excessive typing on the laptop. The stands help you in creating a new, comfortable and stylish work setup.
Are you looking to buy a laptop table online? Browse through the wide range of exclusive device tables/stands on Wooden Twist. Wooden Twist will only serve you with the best furniture at premium quality and affordable prices.
Get discounts, exclusive sale offers and customization services. Get a good blend of comfort and style in your furniture.