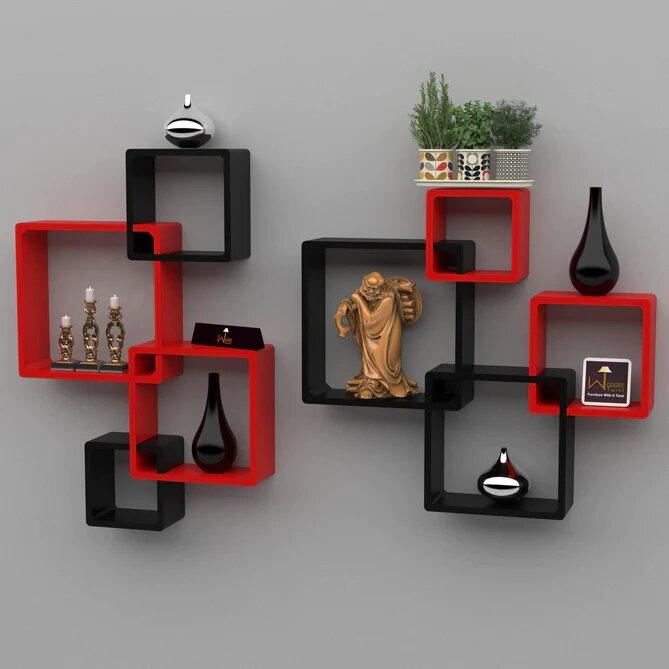 Floating Shelves @ Buy Now At Wooden Twist
A lot of items such as books, cosmetics, toiletries, dinnerware, keys, wallets etc can be stored in designer floating racks. These shelves can be placed in various spaces including the living room, bathroom, bedroom, kitchen, lobby and more.
Wooden wall shelves are lightweight and can be easily shifted from one place to the other as and when required. The installation process is easy, quick and convenient. Even the least of efforts can get the work done without running the originality and surface of a bare wall. Being lightweight does not mean the racks are not strong enough to hold items as these are made from high-quality materials like wood, metal and iron.
Displaying artifacts, travel souvenirs, mementos, and family photos is a way to showcase your taste and style to the guests visiting the house on special occasions. The design proves to be extremely convenient for storing items and decluttering a house from time to time.
The various Zig zag, ladder and animal print patterns are available in the category of floating shelf designs. These are also known as display units because of the gorgeous patterns, styles, sizes, colours, shapes and materials used in the making of the entire piece.
A glamorous and attractive design takes its place on the surface without ruining its texture, tone and functionality. Most house owners use these storage units to match different decor themes and spruce up their home decor.
Are you looking to buy a wooden floating wall shelves online? Look no further than the amazing designs of wooden floating shelves at Wooden Twist. You can get your product customized as per your preferences and shop from the array of styles and themes.
Go for bold colours or neutral shades, the choice is yours to make! At Wooden Twist, we make sure that none of our customers face any hurdles while choosing the best comfort and style in the furniture online.