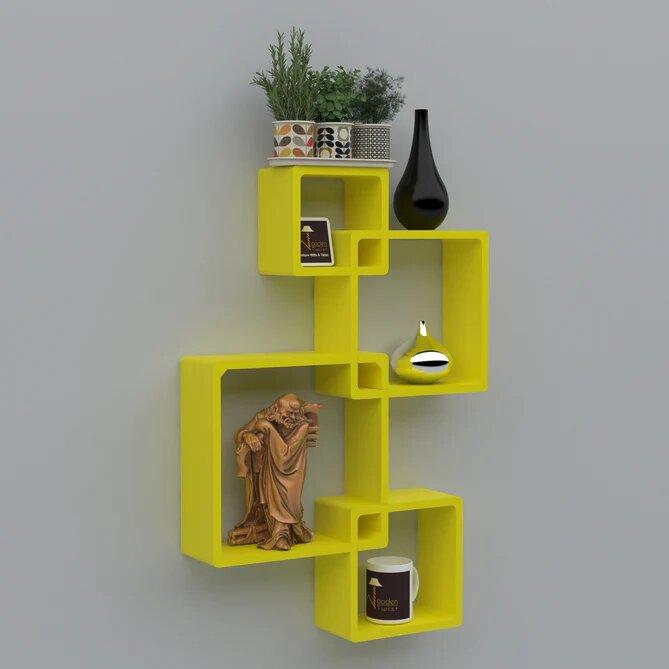 Adds Functionality to the Bare Walls With Floating Wall shelves
The wall shelf adds utility to the most unusual spaces such as the compact corners behind doors and staircases. It provides plenty of space for storing several items such as novels, keys, hats, toiletries, cosmetics, coffee mugs etc.
The ones used in place of the bookshelves are two vertically structured with a minimum distance between the two. One can place an entire collection of books without getting the floor space and lots of sp9ace on the wall to be occupied. These create a gorgeous look and can blend in with the walls perfectly.
A wooden wall shelves is not all about functionality but also it ranks high when it comes to styling modern homes in many ways. Collectibles, family photos, decorative pieces, vases, paintings, mementos and travel souvenirs can be put on display on the designer racks.
The structure designed in various shapes itself is an accent piece to adorn the look of various spaces such as the living room, doorways, bathroom, bedroom, kitchen and many others. It is the best design to grace the walls of a home office where useful items like files can be stacked up as well. It gives a modern and sophisticated look to the room.
One can attach the shelves easily in the kitchen and can place dishes, pans, glasses, cups, spice jars etc. on the top. These can replace cabinets very conveniently if a house owner lacks the budget and space to install the closed cabinets.
Open shelves help keep things handy and provide ease and comfort while cooking and baking. A kitchen bar is also one way of styling and utilizing these units. To create more space for storage, one can add hooks downwards and beneath the racks to hang coffee mugs, spoons, pans and the rest of the items but be careful about the weight capacity it can carry.
Availability at Wooden Twist - Our Very Own Furniture & Decor Store
Wooden Twist is the one online store for all your furniture and decor needs. The exclusive collection here features floating wall shelves designs in various colours, materials and patterns. Shop from the designer and cost-effective collection manufactured in great quality by skilled craftsmen and designers. Choose from Wrought iron to the contemporary wood & metal material.