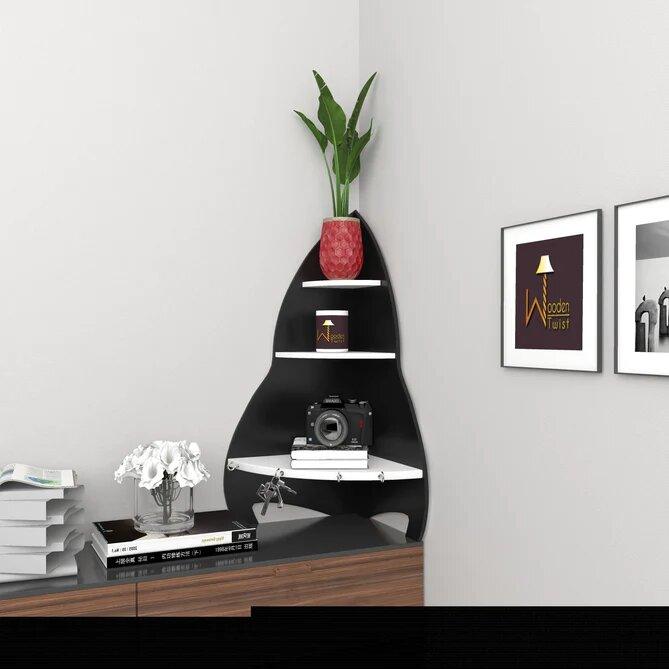 Introducing the Various Kinds of Wall Shelves Designs
Wall shelves are emerging as one of the top interior design trends. These are known for their functionality and style, perfect to create storage space in metro cities where homes are less floor space.
These can be made in different kinds of materials such as wood, metal, glass, etc. Now, we can find them in a myriad of designs and patterns that help us add a glam quotient to our modern interiors.
From the horizontal bookshelves and bulky cabinets, we have come a long way in terms of having storage solutions. Less amount of floor space is not a problem that can't be solved anymore as homeowners can install wall racks to store a collection of items and showcase decorative pieces. There are different types of wooden wall shelves made in high-quality wood serving various purposes.
These shelves are built on the surface and provide a lot of space to store clothes and shoes as well. One can find these in huge bedrooms or study rooms where one can have a library.
It will provide you with plenty of space to keep your books, novels, and hardcover classics. These wall racks are a bit old-fashioned and traditional in structure but are adequate for storage in homes.
One of the most unique floating wall shelves is the Top-hung style that helps you save a lot of space in a small apartment or 1BHk. You can hang this unit to the ceiling and place several items like books, pens, journals, and soft toys.
Wooden Floating Wall Shelves @Upto 70% Off | 2022 Latest Shelf Designs
This stylish wall shelf is mostly found in classrooms and study spaces. One drawback is the fact that it can only handle lightweight objects like books and soft toys. The strong ceilings can only support such systems.
A corner rack does not define a unit that is only attached to the corners. It can be fixed to any kind of tight and lonely space. These come in interesting shapes like Guitar shapes and many others. Mostly attached in study spaces, they can be mounted on the wall or get placed on the floor as well. Students prefer these units to place books and stationery items in the study nook.
Various types of shelves are attached with the support of wall-mounted brackets but the floating or torsion box racks are mounted with the help of invisible support. The brackets are smartly hidden under the panels. The racks appear to be floating in the air and that is what makes the wooden wall shelves popular. These create the illusion of a bigger room.
The stylish units are available in stunning Zig zag patterns and Ladder shapes. The intersecting geometric shapes and contrasting colors make these storage units more eye-pleasing and attractive. Interior designers and Home decor enthusiasts prefer these racks more than anything.
Some floating wall shelves online are portable and can be easily carried anywhere from one place to another. These can fit in compact and small spaces and are freestanding. One is not required to mount them n a fixed place as they can easily be placed in any room and serve as the storage solution.